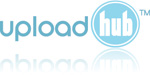 A ground breaking new initiative from The Digital Print HUB designed to enable your company profit from the growth in digital print. Joining up is free and once on board, you will be in a position to sell digital print to your clients at very competitive rates and make very good profit at the same time.
The concept is simple. We'll provide you with our online quotation system that will allow you to price a digital print order in less than a minute. Products we support:

Simply upload the PDF on our online solution, we will print the order on one of our high end digital presses and dispatch the order to you or directly to your client. All orders we dispatch on your behalf will have your livery on delivery dockets with no mention of us at all. The Digital Print HUB will be invisible to your customers at all times.
Features of uploadHUB™ include:
:: Order items from a Business Card up to large Perfect Bound books
:: Print runs from as low as 1 copy
:: Paper weight from 100gsm to 350gsm
:: Matt or Gloss lamination
:: A wide choice of binding options
:: Standard or Express Delivery by a National Courier Company with Online Track & Trace
:: We print on superb Triple Coated branded papers
:: Volume purchase savings passed directly on to you
There's no better time to get behind digital print and there's no easier way than The Digital Print Hub.